The ROSGMI 3 days fasting and prayers for the month of September is ongoing, from 6th of September 2021 – Wednesday, 8th of September. Here are prayer points for Day 2:
DAY 2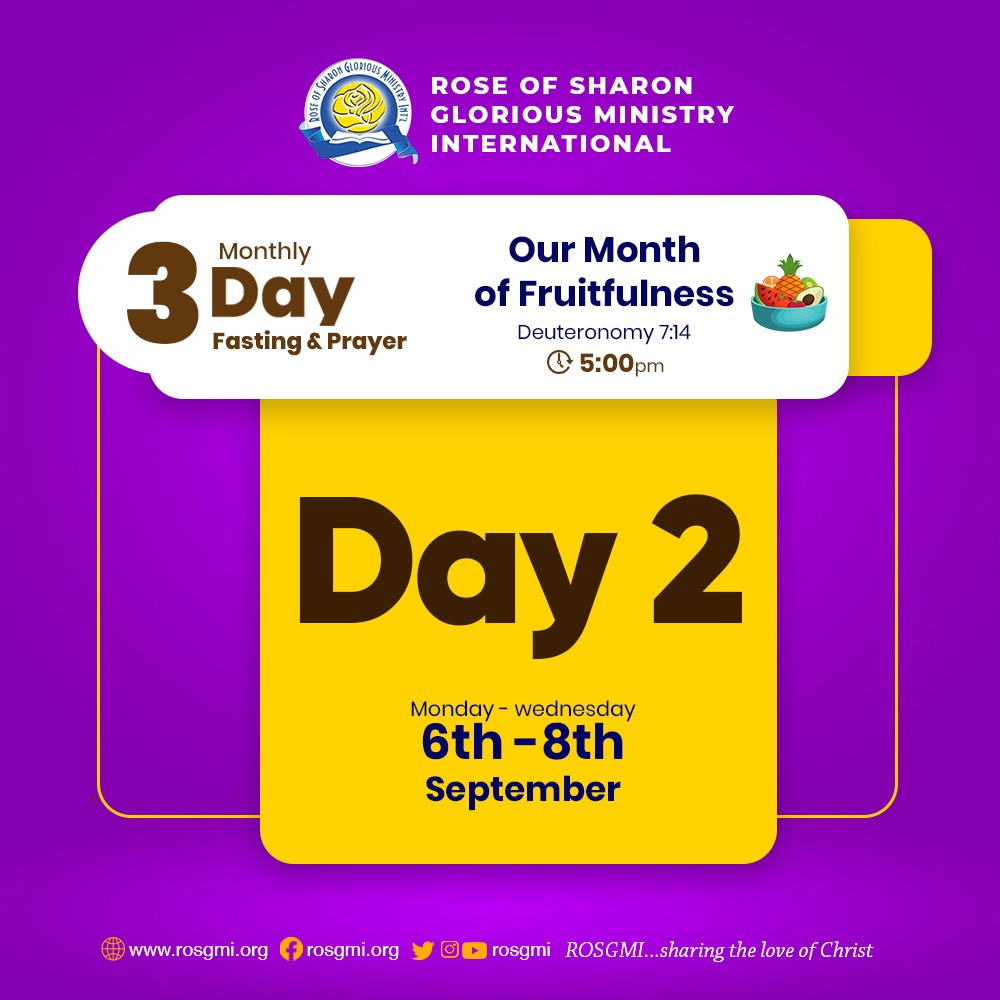 1: Let's enter God's presence with Praises – Psm.100:4
– Sing 2 choruses to the Lord to thank Him for His unfailing faithfulness and Love over our lives, families, churches and nation at large.
2: Marriage – Gen.2:18-22
– Let's call upon the Originator of marriage to remember His covenant of fruitfulness concerning all our sons and daughters that are riped for marriage and settle them with their divinely ordained life partners in Jesus name Amen.
3: Childbearing – Jn.15:1
– Let's call upon the Fruitful Vine God to please remember all waiting mothers in His vineyard like Hannah and wipe away their monthly tears in Jesus name. 1Sam.1:10-19
4: All round Healings – Exd.15:26
– Let's call upon the Great Healer to please heal everyone in the bondage of sickness so that they can continue to be fruitful and give glory to His name as the woman in Lk.13:11-13
5: Business / Career – Psm.1:3
– Let's pray to God to prosper the businesses and careers of His children who are faithful in the payment of their tithes and offerings so that they can have the financial freedom to serve God the more and through there massive breakthroughs many would be drawn to Christ-like Peter. Lk.5:1-8
6: Callings / Ministry – John 6:44, 1Cor.3:6-7
– Let's call upon the Husband of the church to draw many souls to His church. God should cause a great and healthy increase in ROSGMI and all Christ Churches across the globe.
Let's commit our Saturday's University of Marriage retreat to God and our 2021 crusades for divine directions and success in Jesus' name. PSM.37:5
7: Personal Requests – Jn.16:24